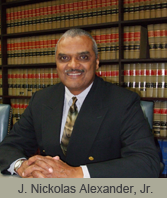 The Law Office of J. Nickolas Alexander, Jr., has been providing legal services in the Orange Park and greater Jacksonville area since 1984. He routinely represents clients in Clay, Duval, Nassau, Saint Johns and Baker counties.
Mr. Alexander focuses on serving clients who need legal representation in many aspects of law including:
In addition, Mr. Alexander is active with the First Coast Collaborative Law Group. Collaborative law differs from a traditional divorce in that it offers a more cooperative process.
Contact our office today by phone at (904) 264-0311 or use our convenient and confidential contact form to set up an initial consultation.